Director Nick Broomfield's documentary on Tupac "2Pac" Shakur and Christopher "Biggie" Wallace murders was recently shown on Current TV.
Watch: Biggie & Tupac By Nick Broomfield
To say the least, it is the most revealing expose on the two rappers deaths and outlines a series of key figures, testimonies, and documents that incriminate Suge Knight and members of the Los Angeles Police Department as conspirators in their killings.
Grab some popcorn and watch the 1:46:13 footage that begs to ask, "Who killed Biggie & Tupac?"
Below is a transcript of some of the most revealing facts from it.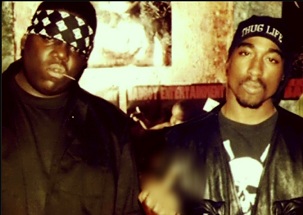 On Ex-LAPD Police Officer Russell Poole:
Los Angeles Police Department Police Officer Russell Poole uncovered "dirty cops" whom were working on the case that would warrant a full probe. Instead, when he brought this to the attention of his superiors he was told not to investigate. In turn, Poole resigned after 18 years on the force, and sued the LAPD on the grounds that they prevented him from properly investigating Biggie & Tupac's murders. "Felt betrayed by department" because they stopped him from properly investigating the rappers' deaths. Described Biggie's murder as a "well-orchestrated hit,"and said experienced people like police officers David Mack, Rafael Perez, Kevin Gaines, and Harry Billups (a.k.a. Amir Muhammad) were part of the conspiracy to murder Biggie & Tupac.
On If Biggie Killed Tupac:
Billy Garland, Tupac's absentee father didn't blame Biggie for his son's shooting. Recounted Biggie visiting Tupac at the hospital where Biggie offered to help. "[He] didn't seem like he had anything to do with it," he said.
On Whom Killed Tupac:
Afeni Shakur, Tupac's mother blamed Suge Knight's friend for his shooting and death while Knight insisted P. Diddy was involved.
On The East Coast/West Coast Beef:
Knight admitted that the east and west coast rivalry was originally a personal issue amongst men (i.e., Biggie & Tupac) that him and Diddy utilized as a marketing ploy to sell to the media. According to the documentary, the dispute hit mainstream at the August 1995 Source Award where Knight publicly baited Biggie to join Death Row Records dissing Diddy & Bad Boy Records in the process while Snoop later antagonized the crowd.
On Suge Knight Ruining Tupac's Relationship With His Brother:
Tupac's brother, Mo Preem claimed Death Row Records split their relationship. Preem described a humiliating act performed on him by Knight where he locked him out in the cold over money. Claims there were two sides to Tupac and the worst side brought out by Knight. "While in jail strangers are telling me he had me shot," said Tupac (although its never revealed whom these individuals are or if they were told to do so by Knight). Biggie admitted in a pre-recorded interview, "I knew how it wasn't true" and "I kept my mouth shut."
On The US Government's Monitoring Of Hip-Hop:
Because hip-hop started as a spawn of the Black Panther party, specifically as a political reaction to issues facing Black people, from its inception its been under surveillance by the

Federal Bureau of Investigation's COINTELPRO

. Case-in-point, in 1993 the US government launched a Senate-selected investigative committee to monitor hip-hop after Dan Quayle expressed his outrage against Time Warner & Warner Brothers Records for releasing Ice T's 'Cop Killa' and Tupac's records. This act eventually led Warner Brothers to release Tupac from his contract (which eventually led to him signing to Death Row Records). At the time of Biggie's death, FBI agents and a photographer were following Diddy and Biggie, and they also documented (via photographs) Tupac's murder. One particular photographer who was on the scene of Biggie's murder also documented Diddy's club shooting and attended Diddy's trial for said event. He revealed the investigation into hip-hop is still ongoing.
On Ex-LAPD Poole's Insight As To Whom Murdered Tupac & Why:
Believed Tupac was murdered because he was preparing to leave Death Row Records since he was going to have Knight audited which would have revealed Knight owed him in back royalties. Claims Knight had Tupac murdered and than covered it up as so it would look like a retaliation killing between the Crips and Bloods. Explained Knight manipulated Tupac to fight for 'stolen' jewelry to provide a motive to Crips for 'killing him' despite the fact that Knight had already hired his own people to kill him.
On How Knight Orchestrated A Murder:
Referred to Knight as the "most organized gangsta" since he had 15-30 law enforcement men working for Death Row Records that included District Attorney Larry Longo and Kevin Hackey.
On Ex-LAPD Kevin Hackey's View On Who Killed Tupac:
Kevin Hackey worked as security for Death Row Records. "Do you think Knight orchestrated the hit [on Tupac]?" Yes. Admitted Tupac was killed because he was readying to leave Death Row Records. Believes Tupac and Biggie's killings are connected, and that the same person in Death Row Records whom orchestrated Tupac's murder killed Biggie in order to remove the guilt off of Death Row Record. Hackey claimed he was betrayed by the FBI. After he gave them the information they wanted they failed to fulfill their promise to give him a promotion. He was offered a quarter of a million dollars for documents in his possession that implicate many individuals including District Attorney Larry Longo. Admitted LAPD knows who killed Biggie, and that the FBI composite of Biggie's shooter looks "99%" like LAPD Police Officer Harry Billups (a.k.a. Amir Muhammad) yet he's never been questioned (presumably due to his connections).
LAPD Officer Reggie Wright, Sr. On Suge Knight:
Knight was a football player who reinvented himself as a Blood gang member. Wright, Sr. said he witnessed the genocide of an entire generation in LA. He cited gang warfare in the form of over 20 shootings in Compton over a 10 day period as retaliation to Tupac's murder and blamed it on Diddy. Explained gang war was used to take attention away from Suge Knight's murder of Tupac.
Frank "Franky" Alexander's Insight On Suge Knight's Role In Tupac's Murder:
He was part of Tupac's security the night of his murder, and the admitted "fall guy" because he was the only member of security who was unarmed with no radio that night. Revealed the night before Tupac's death, he was asked to say Orlando Anderson snatched a chain from Tupac's mom at the MGM Hotel & Casino. After Tupac's death he received many death threats by LAPD, Las Vegas Metro Police Department, and Knight's third party people. Wrote book, Got Yo Back, that mentions the rumor that Knight orchestrated Biggie and Tupac's shootings.
Suge Knight On Biggie & Tupac's Murders:
When Nick Broomfield asked Knight, "If you knew [who murdered Biggie & Tupac] would you tell? He replied, "Absolutely not."
'The Bookkeeper' On Who Murdered Biggie:
(*Granted federal immunity to speak on this topic) Currently imprisoned and fearing for his life. His role in the conspiracy was as followed: He transported money via interstate to orchestrate hit on Biggie. Revealed a hit was taken out on Biggie by Knight and his consorts. Admitted he was aware that some of Knight's consorts were cops. Cried while revealing this information saying "guilt" is what provoked him to speak; said he "no longer wanted to be involved."
Lil' Cease On The FBI's Role In Biggie's Murder:
He provided a police composite that looks "99%" like LAPD Police Officer Harry Billups (a.k.a. Amir Muhammad). Admitted there was an increased amount of police officers on the scene prior to Biggie's murder as well as FBI agents who were monitoring the two men along with Diddy who were both under surveillance. Questions whether or not FBI agents photographed and/or recorded the entire shooting.
Biggie's Bodyguard Jean On LAPD Police Officer Harry Billups (a.k.a. Amir Muhammad):
Actually identified Billups in a six person line up as the man who approached him prior to Biggie's death. Admitted Lil' Cease told him 'a guy in the Nation of Islam shot Big' and described his clothing and appearance which matched the composite photo of Billups.
"These types of clues need to be followed up and these players are involved in this," said Poole. "They do not want to expose to the public that the LAPD was involved in the conspiracy to kill Biggie" and "cops have never been questioned."
When questioned for this documentary, Knight only wanted to speak on a "positive piece for the kids."
Other Details:
Tupac viewed Knight as the father-figure that he always wanted: strong, untouchable, and loyal. Tupac described his life at Death Row Records as a movie. Case-in-point, Suge Knight and Tupac assaulting Diddy's associate Mark Bell, by forcing him to drink his own urine and torturing him to provide them with Puff's address.
Snoop Dogg implied Knight as the person who killed Tupac.
Poole is helping Biggie's mother, Voletta Wallace bring one of the largest lawsuit against the LAPD citing a wrongful death for Biggie.
Police uncovered a shrine to Tupac found in Mack's apartment. Mack & Perez were self-proclaimed Bloods.
According to Tupac during a four month period at Death Row Records he recorded "three songs a day" totaling at 67 tracks.
On Tupac's final year he made over $18 million while during Biggie's last days he sold 10 million records.
By Carla St. Louis (@SheWrites007)
#CurrentTV
#2Pac
#Biggie
#TheNotoriousBIG
#SugeKnight