When is an artist's actions detrimental to his brand?
In light of recent controversy surrounding his feature on Rocko's song, "U.O.E.N.O.," where he boasts about raping a woman with the aid of molly, Rick Ross maybe asking his self the same question as the Miami rapper was relinquished from his lucrative deal with Reebok.
Reebok cut its ties with the Miami rapper Rick Ross on Thursday because of a controversial track in which he boasted about drugging and raping a woman.

A statement from Reebok said, "While we do not believe that Rick Ross condones sexual assault, we are very disappointed he has yet to display an understanding of the seriousness of this issue or an appropriate level of remorse."

"At this time, it is in everyone's best interest for Reebok to end its partnership with Mr. Ross," the statement said.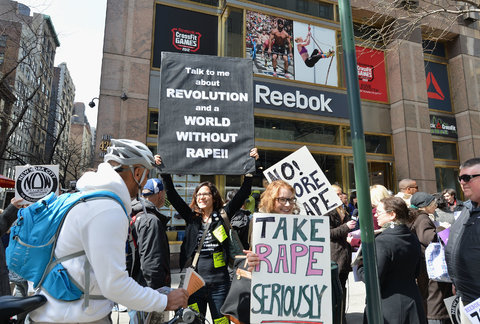 A backlash quickly erupted seemingly from every aspect of society:
An uproar ensued. Some radio stations dropped the record from their playlists, a parents' watchdog protested and women's rights advocates have posted videos on YouTube objecting to the song. [Ross] drew fire from women's rights organizations, politicians and some other rappers.
After Ross rhymed:
"Put molly all in her champagne/ She ain't even know it / I took her home and I enjoyed that / she ain't even know it" implying an act of rape.
Ross claimed his lyrics weren't rape-friendly and offered a non-apology on Twitter:
For his part, Mr. Ross initially denied the lyric condoned rape, saying he had been misunderstood and noting he never uttered the word "rape." Later, however, after a women's rights group threatened to protest, he issued a terse apology on Twitter "for the lyric interpreted as rape." He has yet to go beyond that statement.
And continued to receive support from rappers, Meek Mill and Tyga:
Meek Mill, who's no stranger to inflammatory lyrics, attempted to diffuse the lyrics by comparing it to the Notorious B.I.G.'s rape-filled rap: "Biggie said, 'Rape ya kid, throw her over the bridge.' Back then, it was nothing. It was just Hip-Hop, now you got all these weirdos on these social sites voicing their opinion about something anybody say. I don't care."

While Tyga explained the lyric should be viewed as 'freedom of speech.'
Is Rick Ross hurting his career? Were his comments promoting and/or encouraging rape? Why or why not?
By Carla St. Louis (SheWrites007)
#MeekMill
#Tyga
#RickRoss
#Rape
#Reebok
Source: NYTimes