I hope you all have your big cups to catch this Tea hot off the kettle. Ms. Gloria James, the mother of Lebron James, is no stranger to being in the tabloids from slapping a valet at the club and rumored to dating Delonte West, her sons ex-teammate of the Cleveland Cavilers. Once again she's back, but this time she has company. Yesssssssssss, honey is in love and the icing on the cake is……He's a rapper!
Gloria  James, 44,  is now dating her new beau, Miami-based rapper, TheRealLambo, 30,  but I don't think we should really consider him a rapper since he only have ONE song called "Attitude". Any who, Lambo and Gloria made things official for the public eye this past week when Ms. James invited him to join her along with son Lebron and his fiance, Savannah, to celebrate Savannah's birthday in Switzerland.
Wine tasting in St. Tropez: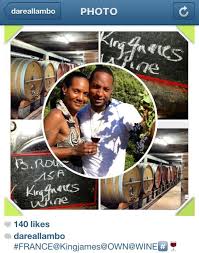 Date night with Gloria and Lambo: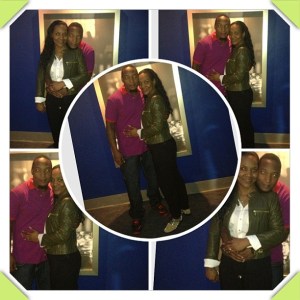 Lambo Instagram share lots of picture of him and Ms. James who he affectionately refer to  as "Wifey" , pictures of him sporting his Miami Heat gear and bling, and also spotted relaxing with Lebron & D-Wade.  From looking at his Instagram, it seems like he dedicate his life as being a part of the James clan. If the two were to ever get married I think he might ask to take on her  last name. I'm just saying.
Flaunting King James NBA Championship ring:
My Favorite picture of them all….OMG!!:
Seen here taking family pictures with his stepson, Lebron and his numerous awards. Proud Dad moment:
Lebron seems to be cool with the fact that his mom is dating someone who's only years older and who looks up to him…Literally. Lambo posted a picture of himself and Lebron and captioned it "" I never had a role model until I met @kingjames #thanks BigHomie @Life is about being positive." I thought a role model is typically a persons that's older then you, but Heyyyyy what do I know.
Looking behind the scene of Lebron commercial for Nike:
Enjoying the luxury life at Gloria's expenses:
This may be a stunt for TheRealLambo to get his 5 mintues of fame to get his rap career started or to become a modern day Steadman. It seem like all he does is go on vacations and take selfies with Lebron's ring…I never see him post anything about his music or what he does professionally.  But Ms. James I'm not mad at you boo. Get your groove -back…Hell Stella did.
Do you all think this relationship will last?? Leave  your comments and feedback.
Source: Instagram
By:ElonKouture
#GloriaJames
#theRealLambo
#Rapper
#Cougar