Miley Cyrus' new wild style is giving people a lot to talk about after her sexual performance at the VMA's where she stroked Robin Thicke with a foam finger and shook what her momma gave her.. which isn't much.  Social Media platforms have been stacked with disses towards Miley after her VMA's performance, however some rappers are taking advantage of her new hobby of twerking.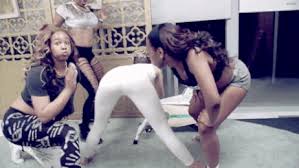 Juicy J, the referee of twerking himself, comes out in an interview saying that Miley is the best twerker out there the way she was bouncing her ass everywhere on stage and that "She's having fun, she's worth $200 million, she's got a few private jets.  Why not have fun.".  Miley made a huge statement at the VMA's and must have given Kanye West a good idea because Kanye and her ditched the VMA's after parties to work on some music for Kanye's "Black Skinhead" remix that he will release in the near future.
Now songs are starting to appear that are titled Miley dedicated to that wild twerking performance she had. Waka Flocka and Wiz Khlalifa released a rendition you can check out below as well as bay area rappers A. Simms and E-40 have a song floating around named Miley as well.
It will be interesting to see how long Miley Cyrus will play out this twerk hype.  Twerking has been around a while, however now everyone knows especially because it was officially added to the Oxford dictionary.
#MileyCyrus
#JuicyJ
#KanyeWest
#WizKhalifa
#WakaFlocka
#E-40
#VMA