Last week Love and Hip Hop Atlanta's Stevie J and Joseline broke up after Stevie accused Joseline of sleeping with laundry list of rappers behind his back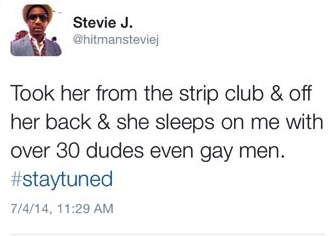 Stevie J Tweet confirmed that Joseline had cheated on him with over thirty guys including some gay ones.
Stevie J has since then been spotted with Joseline at a strip club in Philly over the holiday weekend and witnesses claim they couldn't keep their hands off each other. Later the loved up couple posted a video on social media showing their united front.