Who doesn't love a White girl whose in touch with her ghetto, Black side?
Clearly, Amanda Bynes and Miley Cyrus must be drinking from the same Kool-Aid (read: hanging out with the same weed supplier) because they are officially doing the most to win favor with the Black community.
Read: Ya Heard It Here First: Amanda Bynes Admits To Copying Blac Chyna
Luckily, their efforts were digitally chronicled on the Internet.
First, Bynes decided to channel Nicki Minaj's look-alike and Tyga's baby mama, Blac Chyna with this uploaded photo courtesy of Twitter.
But her cross-over appeal wasn't completely random as it's rumored she dated Kid Cudi a few years ago. I guess that explains her sudden interest in Drake, another Black rapper?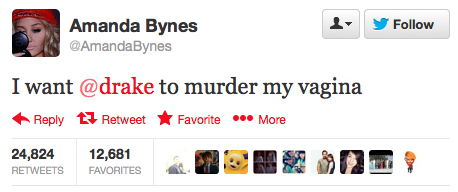 But, Bynes can't really be considered first since Cyrus beat her mug like she shops at the local Black beauty supply store a few months ago.
Then, Cyrus threw her bid in to join #TeamTwerk via this uploaded video of her poppin' her goodies like her rent depended on it while wearing a onesie. Her twerking capabilities were so thorough that she garnered  over six million views on YoutTube along with approval from Black celebrities such as Nelly, Will.I.Am, Amber Rose, and LeBron James who commented, "She Getting It! That track real catchy too."
And she speaks in 80's hip-hop vernacular, even when speaking amongst her fellow White brethren. Case-in-point, her using the word "dope" to describe everyone's approval of her twerking skills.
Cyrus upped her ante by hob-knobbing with Lil' Kim, Wiz Khalifa, and other Negroes.
And reached comical levels when she paid tribute to the ultimate Barbie, Nicki Minaj for Halloween.
So what's the verdict: Are they down?
By Carla St. Louis
Source: Necole Bitchie, Google Images