Apparently, Rita Ora likes her men white, Jewish, and with a dry, sarcastic sense of humor.
No, she's not dating Woody Allen but with that description maybe she should try, right? But I digress.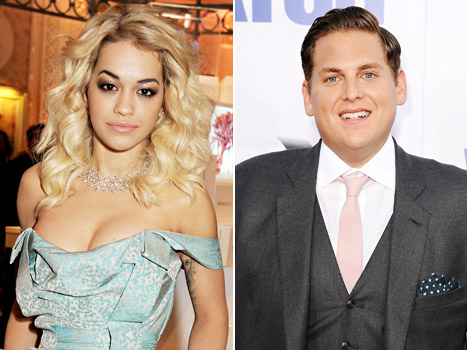 USWeekly reported that the cause of her and Rob Kardashian's break up is none other than actor extraordinaire, Jonah Hill. Shout out to Rita Ora for that Hollywood upgrade! Can we write this infidelity into a Judd Apatow script?
One person who isn't amused by Jonah Hill: Rob Kardashian. A source tells Us Weekly that Kardashian, 25, dumped singer Rita Ora because he learned she had hooked up  with the actor! "Rita spent the night with Jonah during a trip to New York," the insider says  of the British "How We Do" singer and the newly-single Moneyball actor, 29.
But technically were Rob & Rita ever a couple? She's always denied their relationship and it does seem like they were just bumping genitals in the dark dating–not exclusive.
In the tale of the bad romance between Rihanna 2.0 and Rob, who could forget Rob's cuntastic shade against her on Twitter? Just to refresh your memory…
Who else is anxiously awaiting Rob's response via Twitter? I'm hoping he gives actual names in regards to Rita's nookie chronicles as opposed to shading her for blood.
Source: UsWeekly