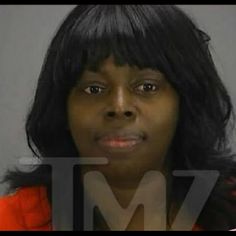 53 year old Grammy-nominated RnB singer/songwriter Angie Stone (whose real name is Angela Brown) was arrested after an altercation Monday night in DeKalb County at her family home.  Police reports states she struck her 30 year old daughter with a metal stand and knocked out her front teeth. As we all know Angie Stone has made RnB hits like "Brotha," "No More Rain" and "Wish I Didn't Miss You," and is also known from the reality show RnB Divas: Atlanta.
According to the DeKalb County police incident report, Angie Stone said that her daughter Diamond Stone hit her in the face with closed fists first, during a verbal altercation. The report also states that Diamond Stone and (witness) Blondy Chisolm, a family friend told police they were not sure who threw the first blow.
According to Diamond Stone, the argument started when Angie Stone entered her room, and demanded that she clean it up and ordered her to control her children, who were running around the singer's Rogers Lake Road home half naked.
According to the police report. 
"Ms. Diamond Stone then went on to state that Ms. Angie Stone started (getting) in her face, telling her she needed to leave because she is tired (of) her. Ms. Diamond Stone then stated her and Ms. Angie Stone started to argue, and that's when a physical altercation started to occurred." 
Angie stated,
 "Once she hit her daughter with stand, she quickly put the stand down and attempted to get away from Ms. Diamond Stone. Ms. Angie Stone then stated while she tried to get away, Ms. Diamond Stone continued to come after her as if to strike her again but stated that Ms. Blondy Chisolm came to break up the fight."
After the altercation both Angie and Diamond Stone were taken to DeKalb County Police Department headquarters where both women were questioned. Diamond Stone was released with no her front teeth gone, and her mom Angie Stone was held in the DeKalb County county jail on charges of domestic aggravated assault and battery.