Rihanna
 and 
Chris Brown
 are one of Hollywood and Hip Hop most hottest on-again, off-again couples, but lately
we've seen most of the off again.
Chris Brown might have been taking subliminal jabs at his ex boo,  Rihanna on social networks, but word on the street is the two haven't  actually communication for quite some time now. The couple is known for having breaks–not break ups– occasionally dating other people and reuniting as if nothing ever happen, but it have seem like the two have officially called it quits. A source tells Hollywoodlife.com, "Even though feelings between the two are strong and may not ever fully die down, being romantically involved with each other is out the question. The couple is not on speaking terms, but they'll always have love and respect for one another."
Alth
ough Rihanna and Chris haven't been communicating v
erbally,  the two
 have been reported taking shots back and forth on social networks.  Brown tweeted, "She's not mine if she's everybody else," and unfollow  Rihanna's twitter when she posted pictures of her kissing an apparent fan after one of her perfor
mances.  A reliable source says,
"He doesn't have time. He living his life and it's hard enough for him to keep up with himself. He ain't got time to be chasing Rihanna. That's done anyway." 
Bad gal RiRi, went on to reply, hinting that Brown was disloyal and disrespectful
throughout their relationship: 
"Settling is not an option! Nothing less than 100% loyal
ty, honesty, and respect!! Love ain't for kids 
#butimsleeptho."
Brown confirmed the break up at his 24th birthday party at a L.A. nightclub when he appeared to be boo'd up with ex-girlfriend Karruche Tran.  A source close to RiRi  said: "Pals have told Rihanna not to get upset about Chris and Karrueche. They think the best revenge would be living well and looking good, but so far Rihanna's answer has been to party the pain away.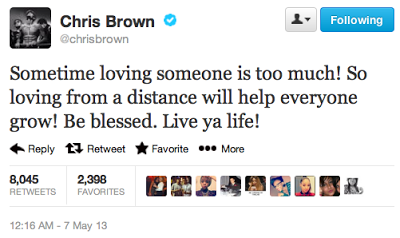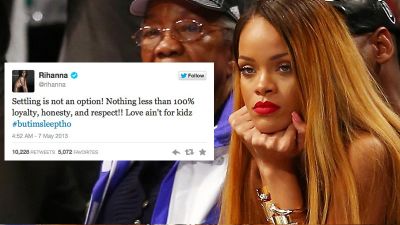 The feud have gotten so deep and personal that Chris Brown removed the track "Put it Up" which features Rihanna on his upcoming album title, X. Sources says the 24 year old would not release the album unless Rihanna was taken off….Ouch!! "Just saw the working track list for X yesterday — Rihanna is not on there. Record execs wanted that song on there, but Chris said he would rather not and wouldn't allow the record to be released unless they took it off," the source added.
Well I think action speak louder than words. If you can take time to send shots at your ex through Twitter, that
means some type of love and feelings are still there. Do you think this is a temporary hiatus or the final
cut between the two?  Are RiRi and Chris done for good? Who knows!
By:ElonKouture
#Rihanna
#ChrisBrown
#BreakUp
#Twitter