Well, well, well. Guess who isn't hear for Black Twitter's commentary?
Erykah. Your Favorite Rapper Is My Baby Daddy™. Badu. That's who.
After @HoldenSaysWha read her for blood by accusing her of being six hours late for her concerts and altogether phony behavior, Badu let loose a bunch of weak ass insults fit for an elementary school yard fight.
And @HoldenSaysWha definitely came with her ammunition as she actually addressed Erykah's Harem of Baby Daddy's™. Ouch, indeed, my friend: The truth hurts.
They were–in a nutshell–ig'nant as fuck. Who knew Erykah had it in her???
Read the inappropriate exchange below.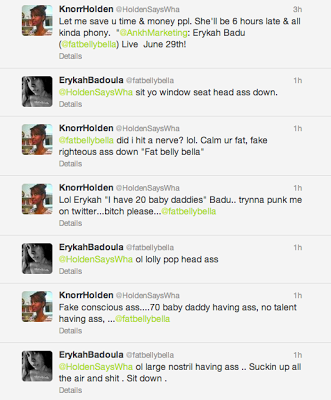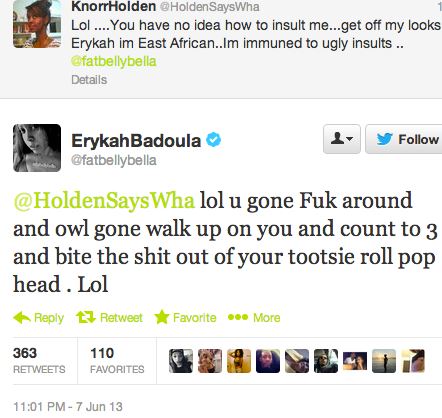 Just for #ThrowBackThursdays sake, remember Jennifer Hudson's Epic Read™ by a Twitter fan? Now, that ladies and gentlemen was a read to end all reads.
Share your thoughts: Has Badu ever kept you waiting at one of her concerts or performances? Was this unbecoming of her?
By Carla St. Louis (@SheWrites007)
Source: NaturallyMoi
#HoldenSaysWha
#FatBellyBella
#ErykahBadu
#KnorrHolden
#ErykahBadoula