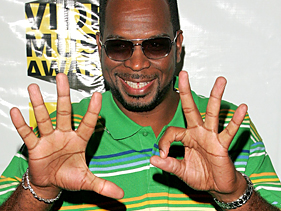 DJ Khaled was able to chat with Luther "Uncle Luke" Campbell on his 99 Jamz radio program Wednesday night (Oct. 12) to discuss his controversial Miami New Times column in which Luke criticized "out-of-town" rappers who live in Miami but don't invest in the community.Lil Wayne, who owns property in Miami, didn't like the article and voiced his opinion on Twitter.
On Khaled's show, Luke wanted to clarify that he feels it's important that if entertainers are going to live, party and work in Miami, they should give back to their local communities. "When you live in a community, you have to be part of the community," he says. "You have to be visible."
Although Uncle Luke didn't have a response for Weezy's tweet, he did encourage the Young Money leader to visit schools in Miami to speak with children who see him as their idol. He also encouraged Weezy, Diddy and other entertainers to volunteer their services and get politically involved, as well. "It kills me to know that [they're] living here, partying [and eating here] but [they] won't get involved in a 5-minute political [event]."
It seems that Uncle Luke doesn't have any animosity towards Wayne or Diddy but instead would like to see these guys be more active in social events than in the strip clubs. "I'm happy that these guy moved down here," he says. "I love what Lil Wayne do, I love Puff Daddy. [But] they need to be a part of this community. If this is your home, make it your home. Be visible. It's not about anybody coming up with money, it's about people being a part of certain things, whether it's political [or] get-out-the-vote rallies. We don't have to wait until a hurricane to come so we all can run around to help raise money. There are hurricanes right now in a lot of kids' houses that need help in different ways."
Uncle Luke and DJ Khaled hopes that their conversation will spark a movement to get more rappers involved in volunteering their time and services to help the city of Miami.
Listen to the entire interview below:
Part 1: Luke piggyback's off his Miami New Times article and says Miami transplants need to give back.
Part 2: Luke encourages Lil Wayne to visit schools in Miami and ways celebrities can give back.
Part 3: Before wrapping it, Luke offers ways celebrities can help Dade County.