Since Gucci Mane jumped out of jail last week he's been on a definite roll releasing "First Day Out The Feds" within a few hours of his release .
Later on he would publicly come out on his social networks to personally thank his fans for their uncanny support . Now he's back in the studio with his right hand man Zaytoven , where earlier today he posted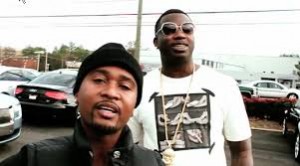 a picture  on Instagram  with "Guess who's back. Zaytiggy#gucci#backtothebasics#soicyboyz @laflare1017" as the caption.