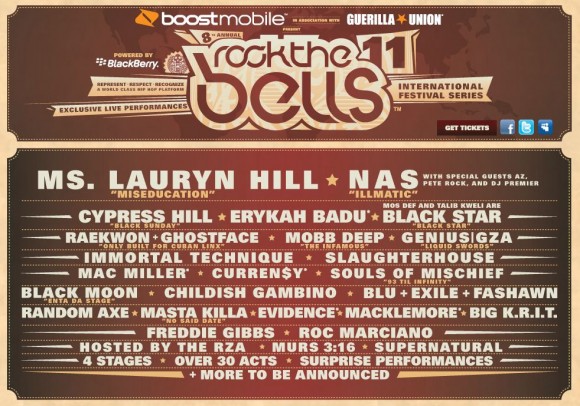 The famous track "Rock the Bells" now captures thousands of concertgoers annually, as Rock The Bells has become one of the biggest Hip-Hop concert tours in the world; and it's a wonder why Mr. Cool James himself has yet to perform at the concert he inadvertently helped to brand.
The first Rock The Bells was held in the summer of 2004, with the entire Wu-Tang Clan headlining- it was their first show as a group in nearly a decade, and ultimately, would be one of their last, as ODB passed away four months later. Originally dubbed as a West Coast exclusive tour, popular demand over the years has seen the show travel across the map, to cities such as New York, Chicago, Toronto, Boston, Miami, Columbia, and Denver. In 2011, Rock The Bells will travel to four cities/venues: Los Angeles, San Francisco, New York, and Boston.
One of the most alluring parts of the Rock The Bells series has been its showcasing of artists performing entire albums from their discography. This year boasts what may be the most heavy-hitting lineup yet. Classic albums like Illmatic, The Miseducation f Lauryn Hill, Baduizm, Be, The Infamous, Only Built 4 Cuban Linx, Liquid Swords, and more, will be performed by their respective artists. Wu-Tang's RZA will serve as host for the event, and over 30 acts in total will be hitting the stage.
Rock The Bells 2011 – Tour Dates, Cities & Venues:
Los Angeles – August 20, San Manuel Amphitheater
San Francisco – August 27, Shoreline Amphitheater
New York- September 3, Governor's Island
Boston – September 10, Comcast Center
Rock The Bells Official Website (for venue info & tickets) – http://www.rockthebells.net
Check out the 2011 trailer:
[youtube:http://youtu.be/OXxokZjoDoc]