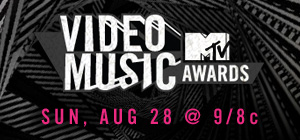 The nominations for the upcoming MTV Video Music Awards were recently announced and none-other than Kanye West is leading the way with seven nominations. With nods for his "All Of The Lights" and "Power" music videos, Kanye also got a nominated for his part in Katy Perry's "E.T." visual. Yeezy is up for Best Hip-Hop Video, Best Male Video, and two for Best Collaboration, for his duet with Rihanna and Kid Cudi for the track "All of the Lights."
Behind Kanye is Eminem and Nicki Minaj with three nominations each, Eminem for best male video, best direction and best cinematography for his collaboration with Rihanna titled "Love the Way You Lie," while Nicki is up for Best Hip-Hop Video and Best Female Video.
Newcomers Tyler the Creator, Wiz Khalifa, and Big Sean were also nominated, along with Lil Wayne, Justin Bieber and Putbull also being nominated. Overall, Katy Perry leads all artists with nine nominations including Best Pop Video, Best Collaboration, Best Special Effects, Video of the Year and Best Direction. This year's Video Music Awards will be held at the Nokie Theater in Los Angeles on August 28th at 9 PM.
Vote now: Click Here