Kirk Forst just can't stay on women good side and I don't think he would ever recover from this one.  Forst alleged mistress of "Love & Hip Hop: Atlanta" has stepped forward to address all the backlash she has received since she was taped being boo'd up with Rasheeda's estrange husband, but all of that is topped by Nicki Minaj going in on Kirk via Twitter for cheating and embarrassing  his wife on national television.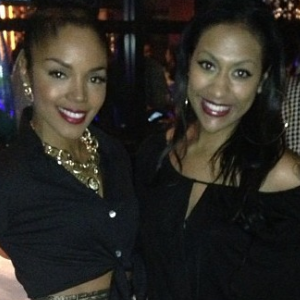 Yessss….her recent rant towards Love & Hip Hop: Atlanta cast member Kirk went viral and showed you how down to earth Minaj is.
Let's refresh your memory for a minute. On last week episode of LHHATL, Mary Jane Miller was filmed giving Rasheeda's co-star and husband, Kirk, a lap dance, kissing and cuddling and retreating  to a bedroom with him and another woman. Kirk was living a single married life (I think that exist…lol) with a bunch of groupies, while the mother of his children was at home preparing for the arrival of their unborn child. Miss Miller went on Twitter, to defend herself against all the criticism. Mary Jane has since responded with a bold and nervy tweet towards everyone negative reactions, "Stop tweeting me just Hide Your Husbands…"
Every woman watching this was furious and was ready to pop off on Kirk and his side piece. Forst betrayal towards his wife and the mother of his kids was so disrespectful even rap star, Nicki Minaj went on a rant.  "Damn my n***a, after 15 yrs u wld embarrass the mother of your child while she's pregnant on nat'l tv like that? cornballs on deck," Minaj tweeted earlier in the week. She continued to lash out at Forst on Twitter saying, "And I dare u to say it ain't none of my business. U done sold it to vh1. It's everybody business."
I respect him for not making excuses for his wrong doing, Kirk tells TMZ he NOW know his actions was inappropriate, he acted like a terrible person and he never wanted to hurt his wife of 15 years. "Nicki Minaj is a woman and she was speaking about me doing inappropriate things. I can't fault her for that. Every woman in America who watched felt the way Nicki did." Kirk adds, "Not only was doing it on the show inappropriate … but it was inappropriate period. And I hurt my wife."
FYI — Kirk says his wife is now "done" with him.
What I don't respect is how he tries to blame his actions on alcohol.
I guess Kirk says, "If Jamie Foxx can come up with a song saying Blame It On The Alcohol, why not use it to my advantage."
"That was kind of out of hand for me. I was drinking hanging with Benzino and Bobby V. I think somebody put something in the drink. I was like, 'That's not me.' But it happened. That was the liquor — I'm probably in a lot of trouble right now. I'm going to do my best. Hopefully time will heal it. I don't have a lot to say," Forst tells Hello Beautiful.
Was it the alcohol that made Kirk accused his wife cheating? Was it the alcohol that made Kirk get angry enough to ask his wife for an abortion?, or Can Kirk Blame It On The Alcohol for making a SOBER woman kiss and cuddle him than retreat to a bedroom?
Hmmmm….Naw my man you can't bounce back from this one.
In the words of Nicki Minaj, "If you're trying to convince someone that you're not gay…you are going about it the wrong way."
Source: TMZ
Source: VH1
Source: Twitter
By:ElonKouture
#LHHATL
#NickiMinaj