Rolling Stone Magazine Crowns Eminem the King of Hip-Hop
When it comes to Hip-Hop, the music and the culture both consist within their own realm. On one hand, you have the business and on the other you have the music and all its inspirational aspects, depending on the artist. In this case, one of the most creditable magazines that have been in the industry for quite some time now has apparently crowned the Detroit emcee Mr. Slim Shady, the King of Hip-Hop.
With that being said, the magazine stated that the list doesn't measure the "all-time greatest," but rather analyzes data like album sales, YouTube hits and social networking popularity to determine who has the highest index number.
According to RollinStone.com, all of their contenders were men except for Minaj, who reappears from their Queen of Pop survey. They liked to think of "King" as a gender-neutral term, and the fact is that Minaj has earned the right to compete in this arena. It would feel strange to leave her out – as a rapper, she's had a world-beating couple of years, with a chart-topping album, block-rocking singles and a slew of killer guest appearances. Frankly, she deserves to be called a Hip-Hop king just for her giant-killing appearance on West's hit "Monster," in which she crushed West and fellow guests Rick Ross and Jay-Z with one blow.
Other additional artists that were up for consideration included: Lil Wayne, Drake, Kanye West, Jay-Z, Gucci Mane, Snoop Dogg, Diddy, Big Boi, B.o.B, Lupe Fiasco, Pitbull, Kid CuDi and a handful of others.
Interesting enough, all of Eminem's albums have gone past platinum, some are even diamond, including his latest release, 'Recovery.' With a plethora of number one singles, Eminem has many awards and accolades within his career in music from the beginning until now.
Keep posted to 24hourhiphop.com for more updated news on Eminem.
If anything, Eminem is an exceptional artist and if anything, I am a fan of his music, but to go as far as to crown him the King of Hip-Hop amongst the list of the artists that they've chosen. Rolling Stone's choice in Eminem is actually debatable on many levels.
Jay-Z Discusses 'Watch the Throne' Title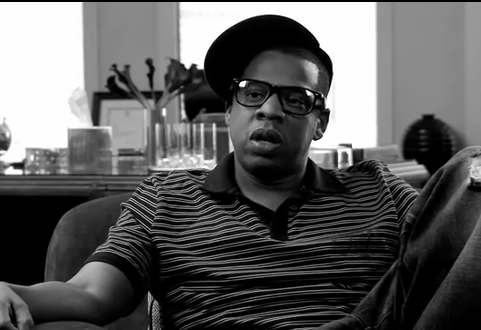 Jay-Z continues to promote his and Kanye West's Watch the Throne album. While his partner Yeezy was overseas in Sweden performing with Prince at the Way Out West festival this weekend, Hov held it down at home, beginning with the opening on Friday of the WTT pop-up store in New York City. He also dialed in to Miami's 99 Jamz for a radio interview, and Monday morning (August 15) it was announced that the God MC would join Bruno Mars, Black Eyed Peas and David Guetta as part of the iHeartRadio Festival on September 23 and 24 in Las Vegas.
On Friday night, after news of the surprise retail space broke, Jigga, along with Beyoncé, Swizz Beatz and producer Just Blaze, threw a party at the makeshift store, where the retooled Maybach from the Throne's "Otis" video was also on display.
Hov also called in to Miami's 99 Jamz radio show host Lorenzo "Ice Tea" Thomas for only his second interview in promotion of WTT. In the interview, Jay explained the Throne's album title:
"It's just protecting the music and the culture. It's people that's in the forefront of music, it's like Watch the Throne, protect it. You just watch how popular music shifts and how hip-hop has basically replaced rock and roll as the youth music. The same thing could happen to hip-hop, it could be replaced by other forms of music. So it's just making sure that we put that effort into making the best product so we can contend with all this other music, with all the dance music that's dominating the charts right now and indie music that's dominating the festivals and still hold off rock 'n' roll. Just to hold our place and make sure that the hip-hop culture is still the most dominant form of music around the world."
The anticipation behind the release of 'Watch the Throne' is apparently still looming in air. This album is already being considered epic on many levels. Between the chosen production and the lyrical matter that they've incorporated into the album, 'Watch the Throne' was actually an appropriate title for the album. It also shows that Jay-Z hasn't lost it and probably never will.
Source: MTV.com/News
Hands down, the album is amazing. Putting two of the hottest emcees of today and before on one album was a great idea. If you don't already have the album, I encourage to go out and get the album.
[Video] Jay-Z & Kanye West – Otis
In light of the release of 'Watch the Throne,' here is the world premiere of the video Otis, their latest single off of the epic album.
Checkout the Video:
[youtube:http://www.youtube.com/watch?v=BoEKWtgJQAU&feature=player_embedded]