Obviously Chris Brown has been all over the tabloids as of lately with his recent breakup with Rhianna, with rumors surfacing that Rhianna has even become a spokesmodel for battered women.
Also reports of his neighbors complaints of his graffiti art on the outside of his Los Angeles Mansion.
Now there is reports of a rekindled romance with Karruche Tran , and to top it off, Chris Brown even gets into an accident in his range rover, with Karruche Tran in the car!!!
News reports, Chris Brown and on again girlfriend Karruche Tran were involved in a car accident close to Toluca Lake near Los Angeles on Tuesday.
The celebrity news site reports that Chris Brown was driving his Range Rover when he rear-ended a woman driving Mercedes. Photographers on the scene reveal that Chris Brown and the other driver exchanged pleasantries, and describe the Mercedes as having "medium" damages.
"Good news that no-one was hurt during the accident, and just exactly what was behind the cause of the accident has yet to be revealed." (Examiner)
Seems like Chris Brown cant make up his mind on what he wants to do. First he was begging for Karruche Tran to come back just earlier this year, then he goes as far as dumping her for Rhianna.
Then he also gets engaged to Rhianna, and then they have internet beef, and now hes back with Karruche Tran.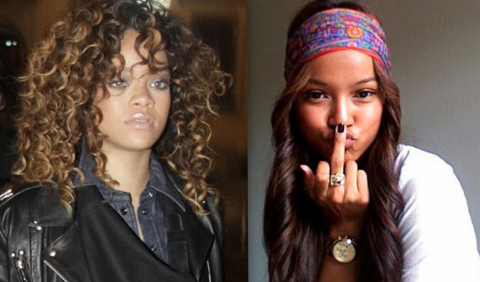 Karruche Tran long ago called Rhianna a home wrecker, so I guess the question I ask is, how long do you think Chris Brown will keep this up?
Tell us your opinion….?