Since a decision was made and George Zimmerman was found not guilty for the crime of killing the late Trayvon Martin, he is a free man. But not everyone is happy of the decision the jury made. Since he was announced free on July 14, 2013 people has had marches, marathons, even Civil Rights activists have been up and at it, like Al Sharpton, The NAACP and others are clamoring for the DOJ to bring civil rights charges against Zimmerman.
As we speak there are still Peace Rallies going on not just in Florida but in other cities like New York, Jacksonville, Atlanta and many more. This shows that Zimmerman might be a free man but will he live a normal life after this decision? If the Feds decide to go through with new criminal charges … then a jail sentence is back on the table. Although, according to legal experts, it will be an uphill battle to prove in court that Zimmerman was motivated solely by race.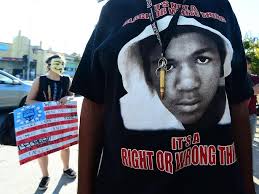 This is might just be the start of something horrid conflict. People might not see it yet but maybe this justice that they want might just lead to an angry crowd looking for more than justice. As of now the President called calm because of this occurrence, he says to respect the call for calm reflection from two parents who lost their young son.