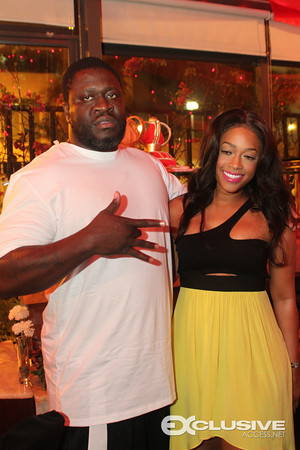 Trina's Diamond Doll Foundation continued their partnership with the Florida Entertainment Summit to organize the 4th Annual Jingle Bell Toy Drive. They teamed up in an effort to bring joy to children in the South Florida area. Trina, overwhelmed with support for the annual toy drive, interacted with fans by dancing, signing autographs and taking endless pictures with supporters.
The evening started with a private dinner sponsored by Live-N-Direct Multimedia, who also surprised Trina with a "Queen of Miami" Cake in celebration of the artist's birthday. Trina jokingly pretended to take a bite of the crown on the "Queen of Miami" cake giving fans and supporters a close up of her jovial spirit.
Birthdays of Live-N-Direct founder, Jerry Bagley and Team Trina's Byron Trice was also celebrated. Atmosphere enhancer to the stars, Mike Christmas, provided the holiday theme décor for the private dinner and Jam Squad DJs, Lucky C, provided the musical direction. The event was sponsored in part by Vibe Magazine, KD Music, Chop Shop, Ace Magazine & E. Mason & Associates.
[youtube:http://youtu.be/bUFnivHdYlk]