24: Introduce yourself to everyone that doesn't already know who you are.
Ripper: Hello World! My name is Ripper the Entertainment!! The maddest, sickest, craziest, MF you will ever hear and see in your life!
24: Before we get into your music, can you describe your history about how you got into and what inspired you.
Ripper: My father is a musician/song writer, and he played the guitar and keyboard. I grew up watching him, sometimes he would let me sing on the mic so that I can hear my voice though the speakers. Also my older cousins listened to a lot of Reggae & Hip-Hop, which of course influenced my present style. I also worked for Viacom/MTV & MTV Tempo and that experience really made me want to take this serious and get into the game.
24: What was the Hip-Hop scene like for you growing up where you're from?
Ripper: It had a major influence on me. It was like verbal freedom. You get to say what you really wanted to say. Listening to Biggie, Tupac, Snoop, Ludacris, etc, was just an everyday lifestyle. If I'm pissed, I listen to Biggie & Tupac. If I'm happy I listen to Ludacris, Wu Tang, if I feel like being cool, I listen to Snoop. If I'm in a deep mental state, I listen to Nas. It had an effect on everything I do.
24: What makes you Unique as a artist and different from other rappers out now?
Ripper: Well for one thing, I ain't scared of nothing! I'm a free individual, I always bring to the table what you would never expect to see. I love to have fun, making you leave your natural element and bug out for awhile. I'm not that every money, bitches, guns & drugs rapper. I take what you go through everyday, flip it, and give it back to you in a very entertaining manner. Also on stage.. Man, you don't want to see me on stage! The livest performance ever! When I leave the stage, the audience be sweating like THEY performed! Check some of my performances man! http://youtu.be/XRSVp-ttyY0, http://youtu.be/eC31O9o1T6E
24: Tell us about what you are working on.
Ripper: Right now, I'm working and writing the treatment to my next music video, a video that's going to be completely different from "Stay Far" which you've seen on WorldStar. This video is called "Give It to Her Ruff." It's for the girls, well it's for the guys, too. It's like, bedroom love music with a twist. You can get a sneak preview here. www.reverbnation.com/ripper
24: What producers have you worked with and who would you like to work with in the future?

Ripper: I produced the majority of my stuff, but I would like to work with anybody. Known and unknown. I'm creative, can adopt to any style. I mean, if you give me a producer that can only do classical music, music with only harps, violins and strings. I bet you'd have the hardest damn Hip-Hop classical shit you'd ever hear.
24: Are you happy with the feedback you have been getting from people on material you have released?
Ripper: Oh yeah man. You know, when I get people who have no clue of who the hell I am, jumping around and singing my stuff like they heard it before, it brings out a real good feeling, man.
24: In today's free download age, what do you need to do to make yourself a household name?
Ripper: I need more stuff like 24HourHipHop.com It got too much artists doing the same shit. Sounding alike, talking about the same crap and have the same swag. It makes it hard for the real talent to be seen and heard. The more radio play and exposure I get, the more I'm likely to become a household name.
24: How do you feel about the current state of the Hip-Hop scene?
Ripper: Well, I keep my eyes and ears to it, because I got to be up to date, but at the same time, I try not to pay attention too much because, it can influence you and make you go down a wrong route. I think that since Hip-Hop became more business, it creates a specific path that you would follow without even realizing it. But at the same time I love it, simply because I'm an out the box thinker that never likes to do what they do. Therefore it creates a bigger impact when I come up with completely different left field shit.
24: Outside of the music, what else are you currently working on.
Ripper: Directing and shooting videos, documentaries, producing and editing for different clients and those stuff. Like I said earlier, I used to work in the production department for TV Networks like MTV & PBS just to name a few.
24: Where do you see yourself going in 2012 and how do you plan to separate yourself from the other artist out today to get the recognition you feel you deserve?
Ripper: I see myself moving up like The Jeffersons. Music is my life, my food, and my wife. I'll keep forever grinding, therefore this won't be the last time you're going to hear from me.
24: How can fans go about contacting you?
Ripper: www.facebook.com/RipperTheEntertainerOfficial
www.reverbnation.com/ripper
Twitter: @RipperTheMadman
Email: Quietlyloud1@gmail.com & 1-646-Stay-Far nah jus playin.
24: Thank you for providing 24HourHipHop.com with this exclusive interview, do you have any last words for your present and future fans.
Ripper: Yes, thank you to all that supported me, and please keep on supporting me. And new fans, Welcome! My name is Ripper The Entertainer! Maddest, sickest, craziest, hardest entertainer you will ever see in your life!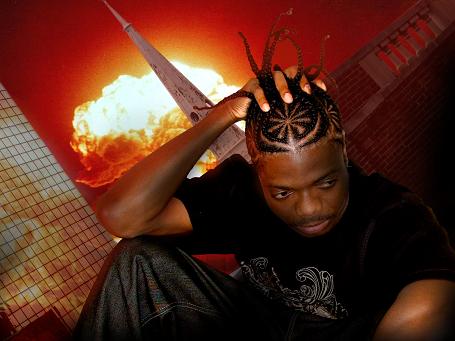 Checkout the Video: