Miley Cyrus has been all over tabloids lately from her recent discovery of Twerkin, her outrageous performance at the 2013 VMA's and breaking records with her single "Wrecking Ball" which made history by getting 12.3 millions views on VEVO within 24 hours  beating her old record for "We Can't Stop" with 10.7 millions views. Cyrus has recently been collaborating with producer,  Mike Will Made for her new album Bangerz, and he has confirmed that the pop singer will be on the remix of Kanye's "Black Skinhead."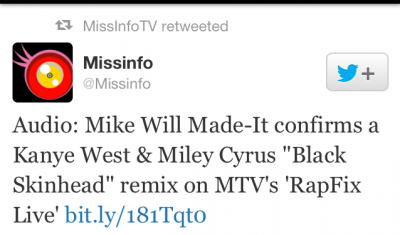 Mike Will, who told RapFix Live's,  Sway Calloway,  that Miley/Kanye recorded the track right after her big performance at the VMA's. "It's about done, we're just touching the beat up a little bit," he explained. "It's sounding crazy."
Miley Cyrus with friend & producer, Mike Will Made before the VMA's:
Sway also went on to asking Mike about his reaction towards Miley infamous performance at the VMA's, he feel it was a win for the 20-year-old pop singer and he continues with that Kanye understood her performance as well. "He told her she did it right, too. Ye is someone who understands. I think someone who understands isn't going to have anything to say about the performance, " Mike told Sway.
Of course Kanye will agree with anything being outrageously done. This is the same guy that  ran on stage and interrupted Taylor Swift acceptance speech at the  same VMA's years back.  Two controversial artist working together, this song is destine to get the attention that it's looking for.
By: ElonKouture
#Miley
#KanyeWest
#Blackskinheads
#Collaboration