Yessss honey….Fresh Tea & it' steaming hot!!!! So I'm taking it that Gucci Mane is really in his feelings with the entire Hip Hop Industry??? After trading diss with Waka Flaka & French Montana over this past weekend, he's coming for more people heads. No one is safe!!!!!!
Relate Link:  Gucci Mane Claims To Have Slept With Nicki Minaj, Blac Chyna, & More!!!
T.I., Young Jeezy, Drake, & Rocko are among the few that have been mention in the random tweets of the last hour on Gucci Manes Twitter (@guccimane1017). Gucci Mane alleged to have slept with Blac Chyna, Ciara, Monica & Nicki Minaj. Gucci Mane went on a tweet rant saying he slept with these women on numerous occasions and he even stated he pulled Nicki Minaj off of Lil Wayne's bus to "smash her throat".  All the other women kept quite, but not that damn Barbie….Roman Revenge was reloaded. Nicki Minaj sarcastically (in her Barbie typing voice) read Gucci Mane from an amazing grace to a bitter taste….Miss Thang let have.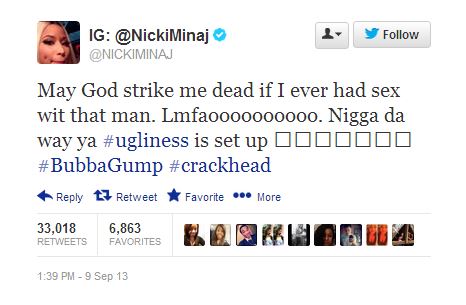 This secret animosity between Nicki Minaj and Gucci Mane has been going on for sometime now. Last year, Gucci Mane did an exclusive interview with Hot 107.9  where he called Nicki Mianj "Phony."
"It's like when she came to Atlanta, she gave me a shout-out, said I helped her and her career," Gucci said referring to Nicki. "But at the end of the day, I think a lot of times you just keep it real with somebody, you can't expect them to keep it real with you. I told you man, this industry thing, they want to be famous and people forget how to keep it real and forget the people who helped them get to where they're at. As soon as that money starts coming in, the people start, that fame [is no joke.] It bothers like every artist when they first start coming in. They start thinking whatever they make is hot, every song they make is hot, everybody hate on them that don't play their records. I've seen so many people's careers go down so I tip my hat to Nicki for being a hard worker but at the same time, she knows she didn't keep it real." (Hot 107.9)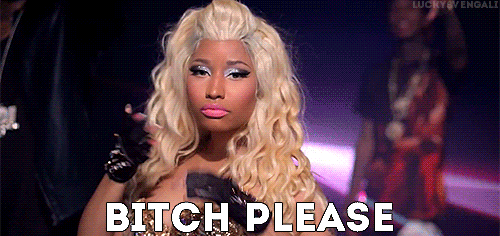 Nicki even loaded a post on her Instagram which involved a conversation between Tyga and herself and Gucci Mane asking to do a song with the both of them, but Nicki decline the offer. Take a good look at the date…it's dated back last week Wednesday!! So I'm guessing Gucci Mane is salty because Nicki & Tyga both turn him down on the collabo offer.
Gucci Mane you aren't dealing with a basic type of Malibu Barbie, Nicki is a limit addition Queens Barbie that can go from pleasant to Roman Revenge in 0.25 seconds. Honey is not sending any subliminal shots…she's coming straight at Gucci like 3D. If Mariah Carey can't get a diss pass, Gucci Mane you definitely didn't stand a chance.
By:ElonKouture
#NickyMinaj
#GucciMane
#Diss
#TwitterBeef
#OoooNoooooHeWasntReady