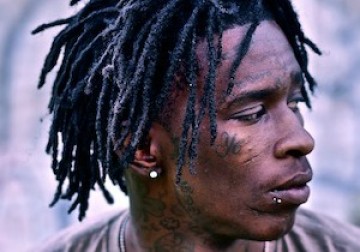 Young Thug has made such remarkable impressions in the rap world it hard to just ignore who he is. If you don't know who Young Thug is then you mist have been a coma. The Gucci Mane protege has two song out that leaves most of wanting more, "Stoner"and "Danny Glover".
What make Young Thug an awesome artist is his untamed flow and wild deliver. His artistry is abrasive, obnoxious and sooooo addictive.
But what really makes Young Thug career so interesting, is that he will be the first openly gay gangster rapper to gain national notoriety. Like so many music artist, like A$ap Rocky and Kanye West, Thug wear alot of feminine clothes….. To make one thing clear a person's wardrobe does not determine their sexuality.
Rapper like Lil B has already set the trend years ago by referring to himself a "fag " or "pretty bitch" then dropping his mixtape "I'm Gay" but then try to play it off and subtitle it (I'm Happy). Yeah right.
All three of these artist have vaguely cross the line and flirted with a rap taboo of possibly being gay of dressing effeminate to suggest they could be gay. Despite R&B singer Frank Ocean coming out as bisexual and the massive success of pretend homosexual Macklemore, the anxiety of being gay in the rap game is thriving. West, A$ap Rocky and Lil B has embrace homosexuality and feels deserving equality and some its traditional wardrobe. But they all are quick to proclaim their heterosexuality if any serious accusations arises.
Young Thug set himself apart but taking it to the next level both creatively and flamboyantly. He wears animal print tutu's, he poses in pictures with other men, and caption them as his "babe".
According to elitedaily.com," Southern homophobia might as well be law of physics, so as Thug's popularity swells, what will be the result? Its long been predicted that the first mega successful, openly gay rapper would be a hardcore gangster act. Gangster fag even attempt to become that gay crossover act, but unfortunately, to no result."
In honest opinion maybe in Young Thug's bluntness, he showing that the first openly gay rapper won't have to announce it to the world, but just be himself and let everyone else worry about freaking out.
Gay or not he is an awesome rapper and you cant help but to hear what he have to say in his music. In a world where the gay community is the majority and everyone else is the minority there is no room for prejudice when there is good music to listen to.
Do you feel that being an openly gay music artist make a difference in whether you like their music or not?
Hit us up and leave your comment and tells what you think