We caught up with the sexy new female rapper from Washington D.C and asked a few questions about how she got discovered and quickly jumped in the spotlight of some of today's biggest names.The answers were filled with honesty ,humor and a bit of cockiness which is always needed in this harsh business' especially for female rappers.Although some may find it hard to believe that a female rapper can make her way to the top of the game with out sexual favors along the way' Rabbit is bound to show that the stereotype is just that and wont be held back by any double standards.
Charles Trey
Introduce yourself
Rabbit! Division One Diamond Charm!
1. When did you Decide to become a recording artist
As far as I could remember I always participated in talent shows, school plays, and choirs. I started studio recording about two years ago. 
2. How did you meet Rico love
I met Rico at his birthday celebration at G5 Miami. I was entertaining his party, meanwhile a good friend Tony Neal let him know I do music, Rico hit me up on twitter & wanted to do lunch the very next day, I played him the music and we've been working ever since. Really simple.
3. What's your nationality
African American, a couple other things but Black will do hehe…
4. Tell us about your upbringing: 
Raised in a Northeast D.C., Capital Hill. My Mom raised my sister NuNu & I. The life my mom provided was wholesome & loving. Of course I chose to rebel & faced many obstacles & tribulations. Growing up in D.C. streets I gained a thick skin & a thrid eye. My upbringing has been so generic, and I often channel situations I've dealt with growing up in my music. 
5. Do you feel any Pressure to be as big as past or current female artist like Niki Minaj Lil Kim or Foxy Brown
I do, it would be disrespectful not to! But good pressure… I'm determined to leave my legacy like all the amazing female MC's before me. The bar been set and my intentions are to reset it. 
6. How would you define your style of music: 
Authentic; palpable… Relatable. Everything I rap about is honest and concrete… I have substance, a message & a story to tell.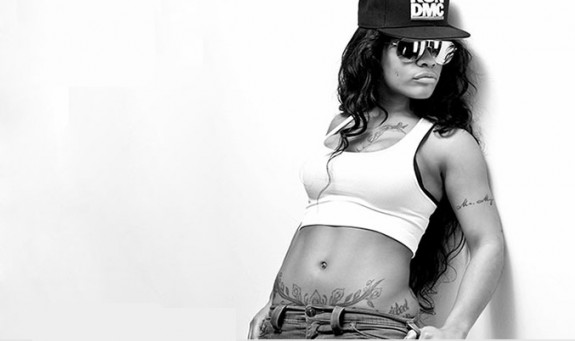 7. What do you think Rico saw that made him sign you 
A Star. Stars are born not made. I can light up a room all by myself, I know what the people want. Shit, I caught his eye when I was just entertaining, once he heard my music he knew if he put that Rico Love production behind me it would be a rap.  He knows I'll get the job done…. He believes in me and is confident in our work. 
8. Are you working on a new album or mix tape
Yes, always working, there's no days of in the art of music… 
9. Tell us about your track with wale and how that came about
Aww man! Wale! That's Big Homie! Truly been one of the best friends & supporters I could ask for in this industry. But yea, he was one of the first to know about my situation and has been coaching me step by step! Rico & him had a session, Riq played the music and #SoFuckinFine was the song Wale felt would do best as a collaboration & something our city could vibe too. 
10. Are you single
When I wanna be… 
 
11. Do you think your past as an exotic dancer will have any affect in your music career
I don't think so, I work my hardest to show I'm way more than a dancer… I'm an artist. I consider dancing an art & when I was I went in 100% on my costumes, hair, routine etc. Luckily times are changing. People are becoming more receptive to the "Naked Hustle" via music & television. I've embraced my past in a positive way & I rap about it. 
12. We hear you just Scored a 50k endorsement deal with Let's Get Laced can you tell us how that came about
Yea, actually I bought a few items from them prior to landing the endorsement. One day a good friend of mind called me to and say that Samaya & Tiffany of Let's Get Laced were interested in meeting me to see what I had been up to since working with Rico. I sent over a brief press kit, they loved what they saw & and agreed with my vision. We sat down, handled business, and now they are my guardian angels! Always keeping me laced! But yes this opportunity to work with LGL is    tremendous! There products are advanced & hair technique are innovative. Most of all, to have two people believe in what I'm doing is priceless.
13. Since you live in Miami now are you A heat fan
Ahhhh! Good question, well I was routing for OKC this year but I'm very happy for the Heat. Much deserved. 
14. How is it working with Rico Love
An honor, Rico is so inspirational and driven. Hardest working individual I know. He tells me the truth and keeps me grounded. He's the best mentor anyone could have in the game. 
15. With the new show love & hip hop being so popular do you feel you may get stereotyped with female artist who have relationships with there producers like Stevie J & Joseline
I mean that's possible because people love drama, but Rico is my brother, like a father figure to me. We have the same desire to win. We already know people will throw salt but the music will speak for itself. 
16. When it comes your sexuality do you prefer men women or both.
Men, but I love pretty girls in all shapes, sizes, colors. I'm a savage so I just go get what I want. 
17. Why do you think the transition from model, video vixen or exotic dancer to female rapper seem to be a natural one today.
I don't. Not many other dancers are doing music? I'm jumping in head first. This shit ain't easy by far, I gotta prove I'm more than a dancer. And I will. 
Tell our readers how they can find you online
DivisionOne.com/Rabbit
RabbitD1 on Twitter Facebook & Instagram
OfficialRabbitTV YouTube
Go head and cop my EP 3to3 onLiveMixtapes.com
Is there anything else you would like to add.
DC or Nothing 
Music was always first for me. Dancing was my stomping grounds to network and meet people who could help me further my music… Now I'm living my dream, and my role in this cast is to show people in general how to go hard & chase your dreams & never ever take no for an answer.