By Carla St. Louis
On December 7th – Songwriter Rico Love attended the unveiling of the Hublot boutique's new diamond-encrusted watches and storefront art installation at Bal Harbour, FL.
Hublot's prized Black Caviar piece, valued at $1M, was on display alongside its new  line, Fusion, that incorporates classic Swiss watchmaking and utilizes contemporary materials like ceramic, carbon, titanium, stainless steel, zirconium, cermet, and gold.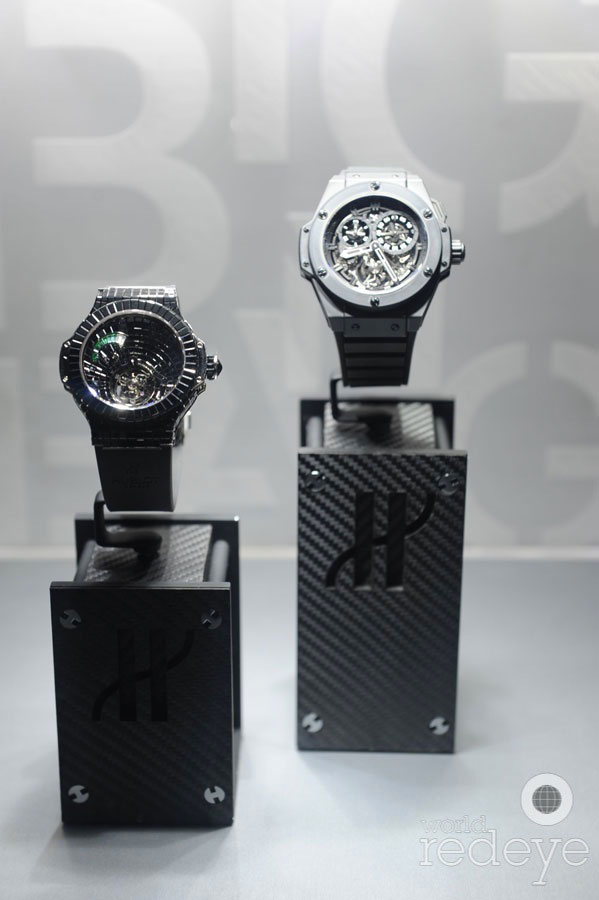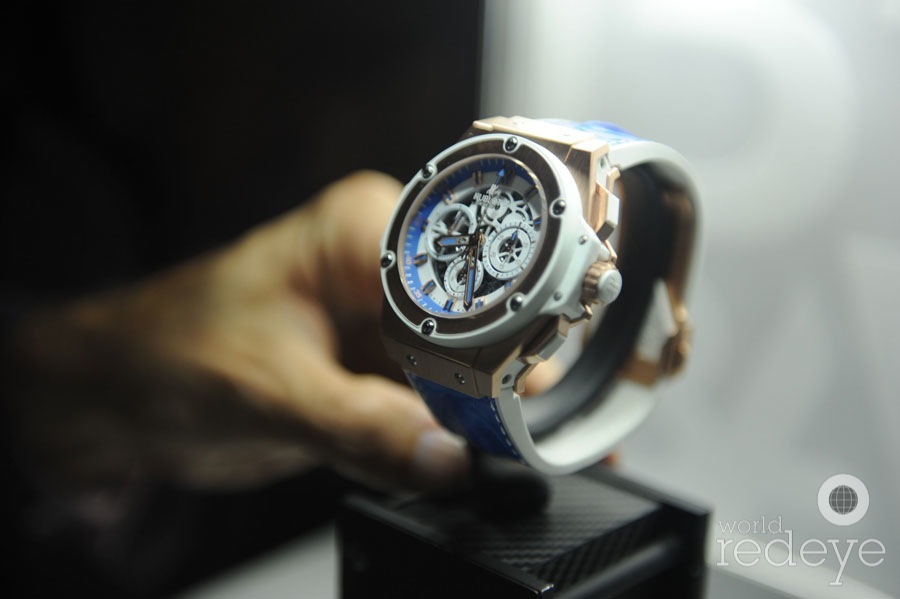 Oh, and how I can I forget: a stunning decorative collection of diamonds. It was quite frankly, a beautiful display of obscene wealth.
The purpose of the Hublot event was to draw awareness to Usher's New Look Foundation, that received 10% of the proceeds of sales from Art Basel's Roberto Cavalli fashion show, pop-up store, and in-store sales.
Luckily for me, the songwriter behind your favorite R&B songs, gave me an on-the-spot interview on which artists he's writing music for, that Teairra Marie project that's quickly becoming an urban legend, and his musical sound forecast for 2013. And I'll actually got him to spill the tea on his relationship with buxom photographer and make-up artist, Robin V.
Are you still working on Teairra Marie's highly-anticipated album? Right now she's focusing on the film and television stuff so we're just sorting out everything. But yes she's still [part of] Division One and she's still reppin' hard; she's family.
What other artists' albums are you working on? Right now I'm getting ready to start the new Usher album. And I'm developing and writing music for Enrique Iglesias, The Wanted, Ludacris, T.I., and Kelly Rowland.
What is your sound forecast for 2013? I think classic songs never die. Classic melodies never die. Music with substance and soul never die [so with that being said] I believe that's always going to be my thing. I never write gimmicky songs; I've never had hits that were popcorn. I always write songs that stick around and I really believe in and value the art of writing true melodies and lyrics.
On his relationship with photographer and make-up artist, Robin V.: I believe in her. She's super dope and focused in what she's doing, and I support her a million percent. And that's the way you stay positive and strong; by being supportive. No one's jealous of each other; it's just each person giving 100 percent support. I believe in everything she does. I don't even give her clients or anything. She does everything on her own; everything she built up was on her own. Shout out to Robin V.
Who says celebrities are jerks, right?
The guest list–which included an impressive gathering of Miami's tastemakers, art aficionados and VIP guests like Fat Joe–sipped on rose champagne and dined on hors d'oeuvres like kobe steak sushi, crispy tuna rolls, and much more.
Needless to say, you should have been there.
The event was hosted by the Collection Ferrari and Hublot, and featured artwork by critically-acclaimed expressionist artist Domingo Zapata. To the delight of Miami's influx of creative types (hello, did I mention it was held during Art Basel), Zapata's Avion collection and a few new pieces were feature around the boutique.
Later that night, a lavish cocktail reception was thrown at the SLS Hotel hosted by Haute Living Magazine.
Source: World Red Eye