"I knew from the jump that it was gonna be a challenge for my listeners' ear," Kendrick Lamar tells Rick Rubin about his second album, To Pimp a Butterfly. "But if I'm challenging myself in the studio, I want to challenge you as well." This month, Kendrick Lamar covers GQ Style for the first-ever Holiday Issue. The cover story features an exclusive addition of annotations made using Genius, including commentary from Eminem, Herbie Hancock, Sam Taylor, Sounwave, DeRay McKesson and more. Kendrick was hosted by venerable producer Rick Rubin at Rubin's own Shangri La studios in Malibu. The two had never previously met but following their interview they walked directly into the studio to start recording new music.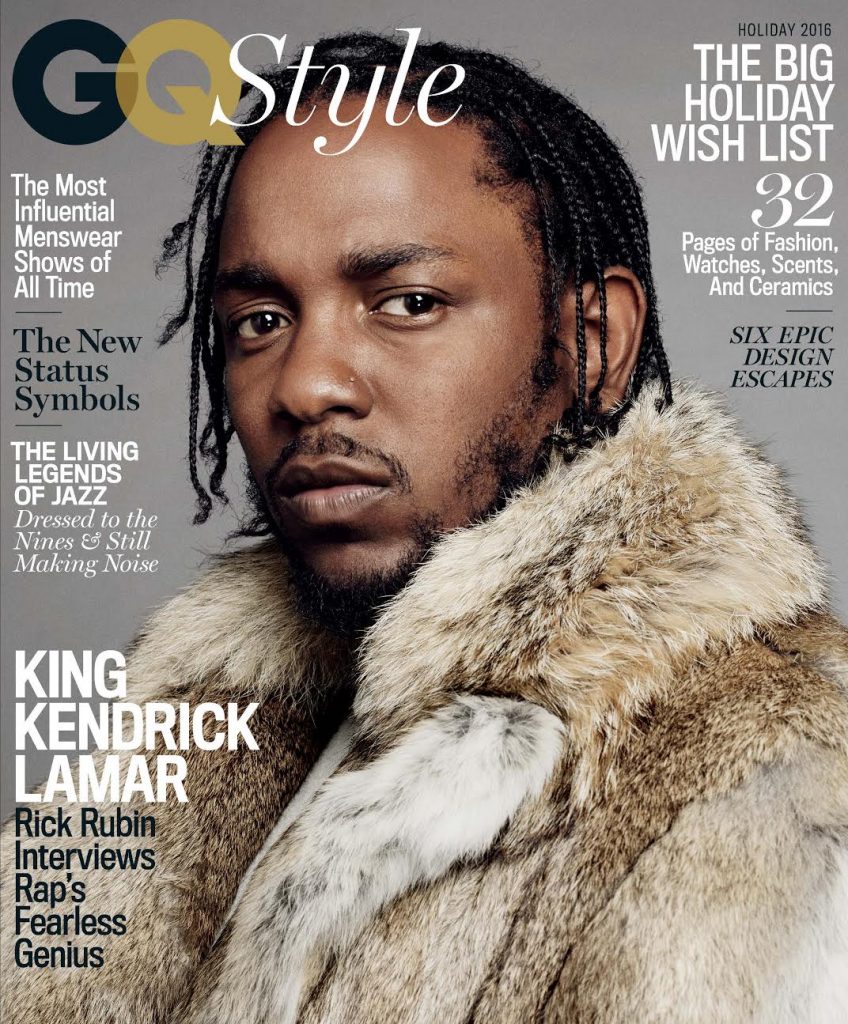 Based on the difference between his first album and his second album, it's clear that Kendrick is experimenting with his sound. But Kendrick can't guarantee that his music will keep evolving in any one direction. "My best thoughts… The best answer I can give you, um… That was me then," he says of his sound on To Pimp a Butterfly. "Not to say that it wouldn't be continuous. It'll always have some type of DNA in my music. But me, as a person, I grow. I'm like a chameleon. You know? That is a gift and a curse for me. But more so a gift, because it never puts me in a box. And my ability to express and still make the connection wherever I go, that is my high point. That's something I pride myself off." Kendrick also tells Rubin that he can see himself making an album in the future where he's not rapping. "I think I got the confidence for it," he says. "If I can master the idea and make the time to approach it the right way, I think I can push it out."
To read the full story featuring annotations made using Genius, with photos shot by Paola Kudacki, go to: http://www.gq.com/story/kendrick-lamar-rick-rubin-gq-style-cover-interview
To see a feature-length film of Kendrick Lamar in conversation with Rick Rubin, go to: http://video.gq.com/watch/watch-kendrick-lamar-meet-rick-rubin-and-have-an-epic-conversation
When making music, explains Kendrick, "I used to consider the listener. But now I'm in a space where if I'm not inspired, I can't really do the music. I can't feel it. I put in enough hours to be able to pen a hundred-bar verse on the spot at any given moment. But for me to actually feel an idea, it has to come from me. And a lot of times I have to block out different needs and wants just for my own selfish reasons. But at the end of the day, it comes out where, whether you like it or not, you know it comes from a real place. It's gonna feel unapologetic, uncompromising, and it's gonnna feel me."
Though his song "Alright" has become somewhat of a protest song for the current generation, Kendrick says it wasn't always envisioned in that way: "I was sitting on that record for about six months. That beat's Pharrell. And between my guys Sam Taylor and Pharrell, they would always be like, Did you do it? When you gonna do it? I knew it was a great record––I just was trying to find the spice to approach it… So with Pharrell and Sam asking me––Am I gonna rock on it? When I'm gonna rock on it?––it put the pressure on me to challenge myself. To actually think and focus on something that could be a staple in hip-hop. Eventually, I found the right words. You know, it was a lot going on, and still, to this day, it's a lot going on. And I wanted to approach it as more uplifting––but aggressive. Not playing the victim, but still having that We strong, you know?
It's this aggressive yet uplifting approach that's allowed Kendrick to make music about current social and political events that are often hard to make listenable. "I could talk about anything," Kendrick says. "That is the challenge for me. Being able to talk about anything and make it connect to a listener. Where a listener can either feel like you or feel like they understand you. Talking to a little kid and making sure that feel like something. Or saying the most brutal harsh thing on a record, where, you know, society may not want to hear it. That's what music is about for me." As for the clarity in his music, Kendrick gets that inspiration elsewhere: "The clarity, I got my clarity just studying Eminem when I was a kid… His time is impeccable. When he wants to fall off the beat, it's impeccable. These are things that, through experience and time, I had to learn.
In the midst of his crazy schedule, Kendrick relies heavily on his tight-knit support network to keep him centered: "Man, I'd be head over heels right now if I didn't have a certain type of grounding. Family, a team that has my best interests––not only in music but as a person," he says. "Everyone that's around me has been with me since I was 15 years old. I know we'll all grow as people, and I'll outgrow some people and different natures, but I hope that these same people will continue to grow with me. 'Cause I can't stop. You know? I can't stop."
The Holiday issue of GQ Style will be available on newsstands in New York and L.A. on Tuesday October 25, and will be available nationally November 1.
[instagram-feed id="@Kendricklamar"]